Today I will be taking a look at the Kong Slow Feeder Bowl. The reason I chose this item is because we have been using it for our pup for over 2.5 years now. Not only is it a well-made product but it also helps with our pup's health. Today we are going to get into the look of this bowl and why we choose it for our pup. First thing we well get into is the look of the bowl.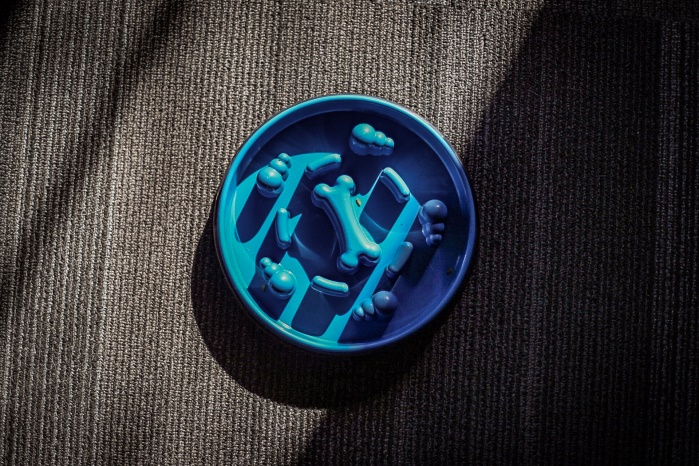 The brand name Kong is very well known in the dog community. The biggest thing they are probably known for is there rubber dog toys. They have toys will last your dog a life time and then some but they also have other great products such as this bowl. Looking at the bowl it has a very simple design to it. It has ten dividers evenly placed though out the bowl with a big dog bone being the middle one and the outer ones being the shape of the famous Kong toys just like the picture on the right. The bow is made of a very strong and durable plastic with a rubber bottom allowing the bowl to have grip on just about any surface. I personally have used it on out carpets, hard wood floors, a grass field, a gravel parking lot and even the bake seat of my car while driving down the road. Never once has the bowl moved on us or spilled unless it was an error by us carrying the bowl or me hitting a bump while driving. The bowl can hold up to three cups of food at a time (which is plenty or most dogs) and it comes in either blue or pink. We went with the blue one due to our dog being a male and we just prefer blue over pink. The bowl is also very portable, whenever we pack up for an adventure it fits perfect in our back pack and does not make the bag uncomfortable. Last but not least when you go to purchase this bowl it is only around the 13 dollar price point which makes it very affordable.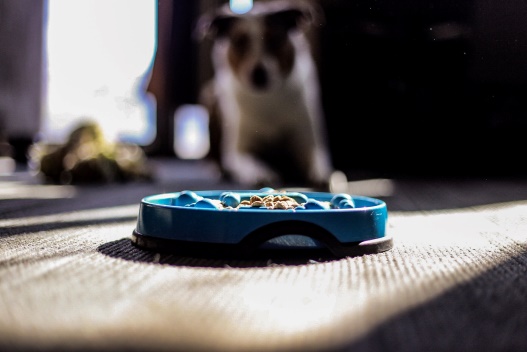 Now let's get into why we chose this bowl. When we got Oakley he was farm dog, bred to work. He was part of a big litter and when it comes to feeding time it was basically the toughest one got the food. So when we brought Oakley home he would swallow his food like a vacuum out of a regular bowl in fear another dog was going to get it. When we look into fixing the problem it seemed adding a slow bowl would really help. At first Oakley hated it because it was much more difficult for him to get his food and it would upset him. Although it upset him it did help him. He slowed way down when it came to eating his food and it help with concentrating on chewing his food.  He is now 2 and half and he still uses the bowl on a regular basis but from time to time we let him eat from a regular bowl and we have notice how he slowly eats it. In my honest opinion if we never switched to one of these bowls I think our pup would have choked while eating or thrown up his food constantly.
I would definitely recommend this bowl to any dog owner who has a dog that eats fast or is just worried their dog may choke on their food easily. They can be bought at any Pet Co, which is where we snagged ours or on Amazon. The price is hard to beat especially when it comes to your four legged best friends' health. I hope some of you try out the bowl or a slow bowl in general. I have attached the link to Pet Co where you can purchase the bowl.